Faster production with AI
For the first time, the Hamburg Open will take place at the Hamburg Messe and we will present our medialoopster MAM system with powerful AI functions at booth 320 in hall B1 from January 22 - 23. We will show how medialoopster can automate complex workflows in the video workflow and make them much faster.
Don't miss our presentation on Wednesday, 22 January at 15:30 in the Recruitment Area. Here we will also show you live how your video workflows can be made even more efficient through AI-supported media asset management!
Metadata is the key
To work with moving images quickly and sustainably, videos must contain metadata, especially time-related metadata.
By using various AI services for content analysis of moving images, medialoopster metadata can be automatically generated and managed in almost unimaginable quantity and quality.
The more metadata is added to a video asset and the higher the quality of the metadata, the greater the value of the asset, as it can be found and reused more easily and therefore faster. In this context, managing the increasing amount of metadata becomes even more important.
medialoopster is able to manage enormous amounts of metadata of any kind with the highest precision, which is why we like to call medialoopster the Metadata Management System.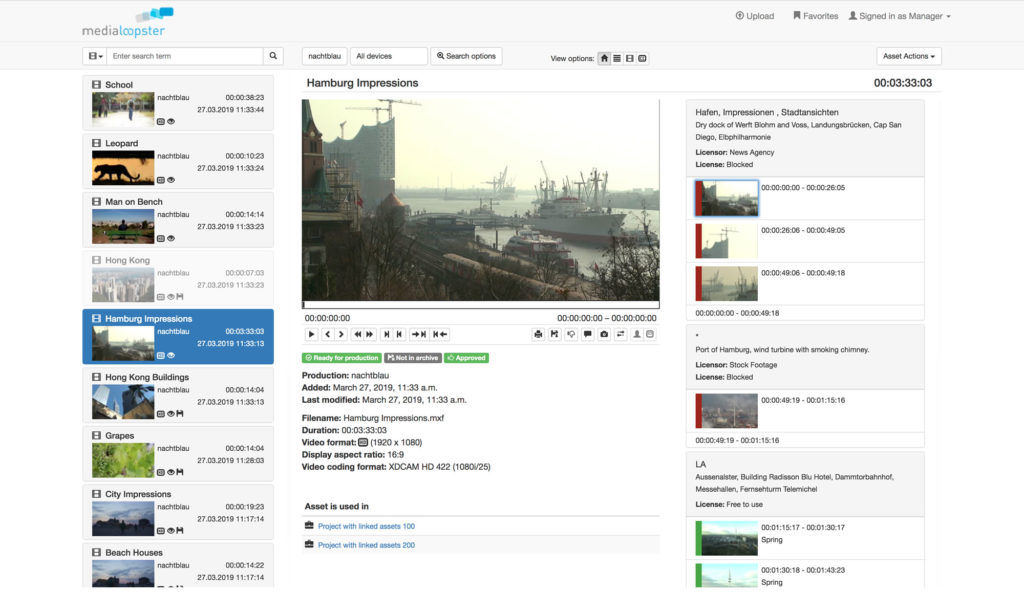 Additional functions through AI
Speech to text recognition: Spoken words are automatically converted into text and provided as metadata.
Subtitles: Spoken words are converted to text and displayed as subtitles.
Face, object and logo recognition: Search explicitly by number and appearance
In the next step, it is planned to translate texts into different languages and to provide them accordingly as subtitles or via voice over.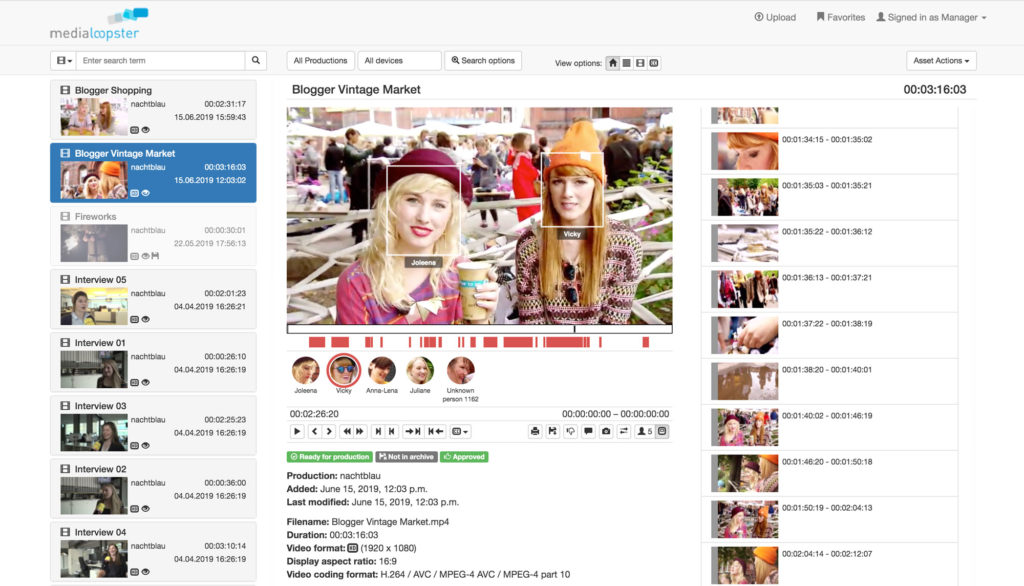 Further cornerstones of the current release
With the current release medialoopster also offers new functions that help to organize video content even easier:
The assignment of user-defined metadata in the browser interface is made much easier.
By using predefined values, the quality of the metadata can be increased.
The loading performance of face detection data has been significantly increased and the display of person icons and bounding boxes has been improved.
The detail view of project assets has been completely revised: It now offers a better overview of the media assets in use with integrated preview function.
It is now possible to create project assets from favorites lists and search results in the medialoopster browser interface.
Additionally, existing project assets can be extended by adding media assets. This allows media assets to be permanently grouped into material collections, which can be described with their own metadata and used for further workflows.