Compact appliance for media asset management and storage
nachtblau presented its new all-in-one solution mediabox for the first time at this year's IBC.
The mediabox combines everything needed for a professional video workflow:
A perfectly tailored MAM and storage solution for a professional video workflow
Unique, low-cost combined solution compared to individual solutions
Simple setup thanks to pre-installed version of medialoopster
Efficient usage and management of media content
Flexible usage in different locations
Expandable/scalable as required
One for all: mediabox
The all-in-one mediabox solution was designed for a broad target audience. For small and medium-sized companies that need a fully fledged production system, but have limited funds available. Also for larger companies looking to expand their systems or in need of a standalone solution for a short-term project.

Pre-installed: medialoopster
The mediabox comes pre-installed with the medialoopster MAM system, which simplifies and accelerates the workflow in video production. Especially for the video and audio sector, nachtblau develops AI applications that can be used with the MAM system medialoopster to automate recurring tasks and workflows in video production.
Benefits of our MAM system:
Intuitive operation
Rapid workflows
Connection to AI services
Collaboration
Real-time access to media data
Rough-cut editor, and many more.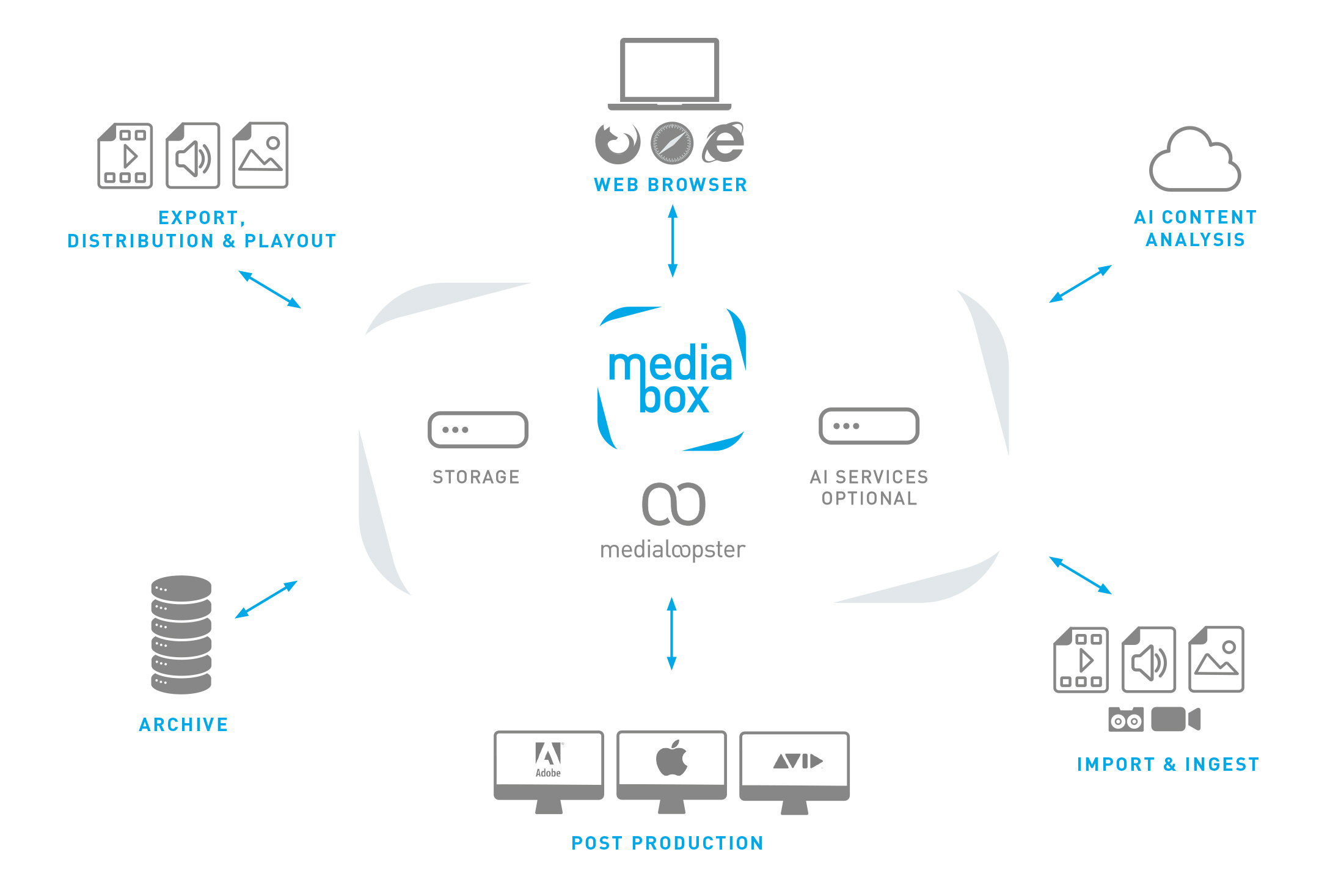 Incredibly easy, unbeatably flexible.
mediabox is not just extremely simple to set up, but is also very easy to use and maintain.
Plug and play: after switching on, there is minimal configuration needed and you can get started straight away
Independent of infrastructure: no technical in-house support or separate server room required
Configurable via web GUI: an intuitive web GUI enables server administration, backup routines and comprehensive monitoring
Non-proprietary: the solution can be easily scaled and upgraded in the future
To ensure that our mediabox meets your company's needs, we focused a lot on flexibility during the design – our mediabox can be customised in many ways:
Storage size can be scaled up to 400 TB
Customisable number of users – up to several hundred
Different mediabox models for every need – from the SSD Performance model to models featuring an LTO connection and silent case models
Expandable with additional components
Can be connected to up to 6 Adobe Premiere Pro editing suites without any additional


THINK OUT OF THE BOX. THINK MEDIABOX.